Dr. Frank Feuille V, DDS, MS
---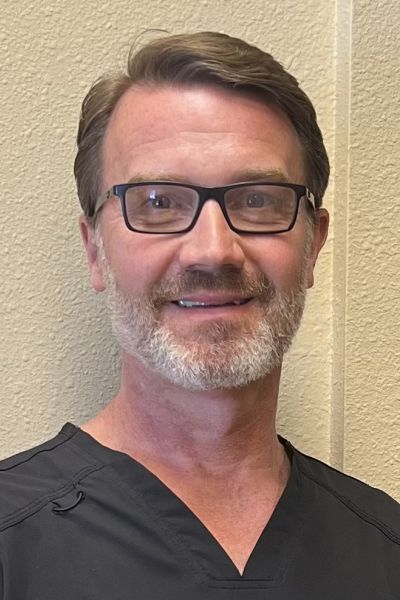 Dr. Feuille is a native El Pasoan who returned home in 1999 to practice dentistry and establish the Implant & Laser Periodontal Surgery Center. He enjoys helping each of his patients improve their health, appearance, and self-esteem by creating the smile of their dreams and also maintaining the health and function of their teeth, gums, and bite.
Dr. Feuille graduated in 1992 from Texas A&M University with a degree in BioMedical Sciences. He graduated cum laude in 1996 from the University of Texas Health Science Center at San Antonio and received his certificate and Master's degree in Periodontics in 1999. His advanced education and continuing dental study allows him to offer his patients a superior dental experience and an unparalleled level of quality care.
Dr. Feuille is a Diplomate (board-certified) of the American Academy of Periodontology as well as a Fellow in the Academy of Osseointegration, the Institute for Advanced Laser Dentistry, and the American College of Dentists. He is the only El Pasoan to have been awarded the Young Texas Dentist of the Year Award and was privileged to be nominated for the Texas Dentist of the Year. He has been named a Texas Monthly Super Dentist for the last eight years in a row and he founded the Thunderbird Study Club.
Awards / Honors
Rotary Youth Scholarship,Spain
Distinguished Student,Texas A&M
NIDR Student Research Fellowship
AADR Student Research Fellowship
Excellence in Clinical Dentistry Award
Annual Student Award, American Academy of Periodontology
Outstanding Ex, Coronado High School
Diplomate, American Board of Periodontology
Fellow, International Congress of Oral Implantology
Recipient - Texas Leadership Award for the New Dentist
Nominee - A.G.D. Texas Dentist of the Year
Fellow, American College of Dentist
Certified to perform Laser-Assisted New Attachment Procedure®(LANAP)
Fellow, Institute for Advanced Laser Dentistry
Research and Publications
NIDR Summer Research Fellowship - F. Feuille, L. Kesavalu, M.J. Steffen, S.C. Holt, J.L. Ebersol. Synergistic Tissue Destruction induced by P. gingivalis and F.nucleatum. J. Dent. Res. vol 72.(Abstract)
AADR Summer Research Fellowship - F. Feuille, M.J. Steffen, S.C. Holt, J.L. Ebersol. Environmental Regulation of P. gingivalis vesicles: Structure and Function. J. Dent. Res. vol 74.(Abstract)
F. Feuille, J.L. Ebersole, L. Kesavalu, M.J. Steffen, S.C. Holt, 1996. Mixed infection with Porphyromonasgingivalis and Fusobacteriumnucleatum in a Murine Lesion Model: Potential Synergistic Effects on Virulence. Infect. Immun. vol 64: 2095-2100
J.L. Ebersole, F. Feuille, L. Kesavalu, and S.C. Holt. Host Modulation of Tissue Destruction of a Mixed Microbial Infection and Composed of Porphyromonasgingivalis and Fusobacteriumnucleatum. Microbial Pathogenesis 1997; 23:23-32
F.Feuille, M. Brunsvold, T. Oates, P. Numinkoski, D. Cochran, and J. Mellonig. Clinical and Histological Evaluation of Freeze-Dried Bone Allograft in the Treatment of Localized Alveolar Ridge Defects. Thesis
F. Feuille, C. Knapp, M. Brunsvold, and J. Mellonig. Clinical and Histological Evaluation of Bone-Replacement Grafts in the Treatment of Localized Alveolar Ridge Defects. Part 1: Mineralized Freeze-Dried Bone Allograft. IntJournPerio Rest Dent. 2003; vol 23: 29-35
Memberships
International Association for Dental Research
American Association for Dental Research
American Dental Association
American Academy of Periodontology
American Academy of Periodontology